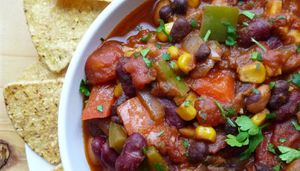 Yield: 1 Servings
3 red new mex chiles,Dried
2 chipotles
1 habanero
4 cloves garlic
1 t cumin,Ground
1 t origano,Dried
1 T vegetable oil
1 lg onion,chopped
1/2 lb beef,Minced
1 15oz can tomatoes
1 15oz can kidney beans
Cut the tops off the dried chiles. Toast them in a hot frying pan
for a few minutes until fragrant and then soak them in hot water for
20 minutes. Liquidise them with some of the soaking water. Roughly
chop the habanero and the garlic and add them to the liquidiser along
with the cumin and origano. Puree some more.
Heat the oil in a saucepan and fry the onion until softened. Add the
meat and cook until browned. Add the chile puree, tomatoes and beans.
Cover and simmer for at least half an hour. Uncover, raise the heat a
little and allow the excess liquid to evaporate (about 10 minutes).